- Sea moss

is acknowledged as a food supplement because It provides a lot of natural nutrients for humans: mineral matter, protein, iodine, calcium, zinc, vitamin, and natural collagen.


- Sea moss is completely natural, no admixture, no preservative, no GMO,...
- When dried sea moss is softened in water, It still holds a sea like odor and the nutritions. Sea moss can also be used directly to making the drinking, vegetables.
- Sea moss is the major source for carrageenan extraction which has applied rather popularly in processing food, industrial manufacturing.
* The benefits of sea moss:
- Helps to boots immure function.
- Improves skin, hair, and nail.
- Improves thyroid function.
- Improves mood.
- Reduces mucus congestion.
- Sea moss can be used as a gelatin substitute.
Description of dried sea moss / Irish moss :
- Moisture content: 8% max
- Color: natural white and gold.
- Processing: we are cleaned up it very carefully, it is completely no impurities.
- Quality: no gravel, no nylon cord, no humidity, no soil, uniformity on colour.
- Packing:
+ 3 oz per zip lock kraft paper (50 bags per carton box).
+ 8oz zip lock bag (50 bags per carton box)
+ 20 kilograms per PE bag inside and PP bag outside, or according to customer's request.
- Delivery Port: Cat Lai Port, Ho Chi Minh City, Vietnam.
- Storage: dry place, not humid.
- Shelf life: 24 months from the date of manufacture.
- Capacity: 30 tons/months.
Processing super grade dried sea moss:
Step 1: Choosing sea moss products to have a highly uniform colour, shape, and quality, so on.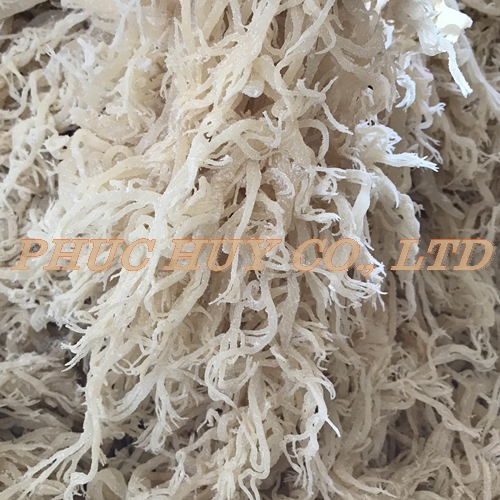 Step 2: Rinsing sea moss with fresh water to altogether remove the salt, other impurities.
Step 3: Drying dried sea moss under the sunshine. Normally, It takes about three days to be the right moisture level for preserving best.
Step 4: Testing the sea moss quality again before packing them into bags.
If you are interested in the products, please send your enquiry.
We will get back to you soon.