-

Dried sea moss ' Irish Moss"

is good food for humans because It has contained a lot of natural nutrients which is absorbed from the sea: mineral matter, protein, iodine, calcium, carbohydrates, zinc, manganese, and natural collagen.
- Our

sea moss product is

cultivated and processed completely natural, with no admixture, no preservatives, Non-GMO, Gluten-free, no chemicals, etc. It is really safe to use every day.
- When dried sea moss has been soaked in fresh water. It still keeps full nutritional value and the odour of the sea. The sea moss uses directly to make drinking, salad, etc
* **The benefits of sea moss:
- Helps to boost immure function.
- Improves skin, hair, and nail.
-

Improves mood.
- Improves thyroid function.
- Reduces mucus congestion.
- Sea moss can be used as a gelatin substitute.
*** Description of dried sea moss / Irish moss :
- Moisture content: 38% max
- Impurities: 3% max
- Color: golden
- Quality: no gravel, no nylon cord, no humid, no soil, uniformity colour.
- Packing:
+ 100 kilos per bale
+ 25 kilograms per PE bag inside and PP bag outside.
+ According to the customer's request.
- Quantity: 19 tons per 1 container 20 feet.
- Loading Port: Cat Lai Port, Ho Chi Minh City, Vietnam.
- Storage: dry and cool places, away from humidity.
- Shelf life: 12 months since manufacturing.
- Capacity: 200 tons/months.
***** Production process of dried sea moss:
Fresh sea moss -> Cleaned impurity up -> Handing sea moss -> Naturally dried -> dried sea moss.
- Fresh sea moss has to achieve maturity.
- The sea moss is cleaned up of impurities like gravel, and other strangers.
- Being naturally processed about colour for agreeing to the customer's request.
- Fresh sea moss is dried completely under the sunshine.
- Final sea moss has the lowest moisture level and impurity, and uniform colour,...
***** Pictures for our sea moss products: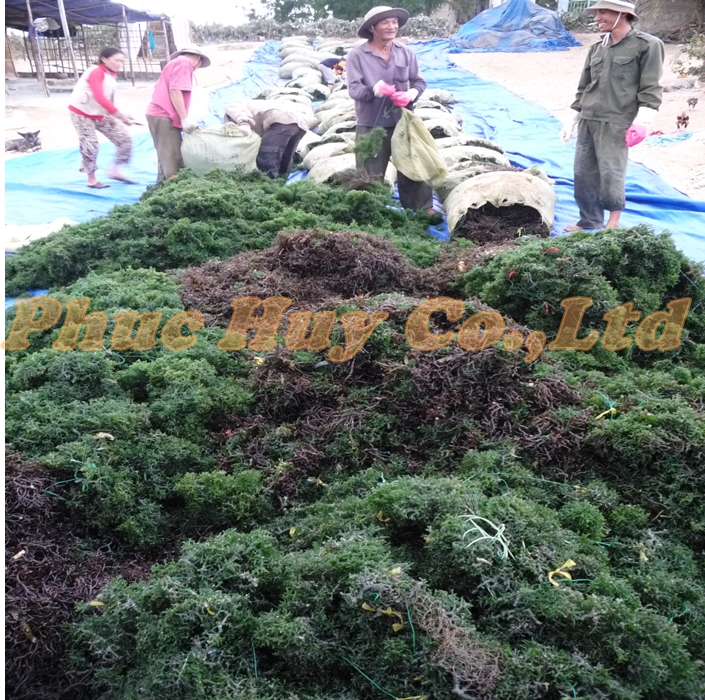 Fresh sea moss is removed impurity by the workers

Sea moss is naturally processed about colour.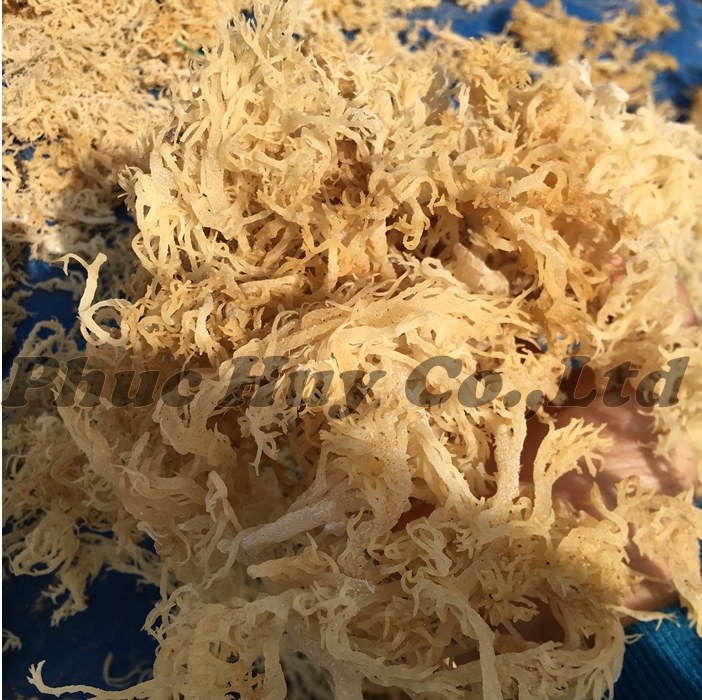 ​​
Drying sea moss under the sunshine
Real dried sea moss / eucheuma cottonii is cleaned up the impurities again and packed to export.
Loading the sea moss into the container.