Fruit, vegetables exports up 7.9 percent in April
Vietnam exported 390 million USD worth of fruits and vegetables in April, representing a month-on-month rise of 7.9 percent, but down 15.6 percent against the same period last year.

Exports of fruits and vegetables and nut products to Russia surged. Meanwhile, Vietnam plans to ship its first batch of fresh lychee to Japan at the end of May.

With the COVID-19 pandemic now under control in China, Vietnamese fruit and vegetable exporters are hoping to recover their market share in the neighboring market.

Last year, fruit and vegetable exports lagged behind expectations, reaching only 3.8 billion USD, a year-on-year drop of 1 percent.

According to the Ministry of Industry and Trade, 2019 was a tough year for the sector. China, the country's largest importer, tightened requirements for imports from Vietnam via strict quarantine measures and origin traceability.

However, growth was seen in shipments to several markets such as ASEAN (26.6 percent), the US (10.7 percent), and the European Union (32.2 percent).
Related news
Date Submitted: 22-06-2022
Date Submitted: 04-07-2020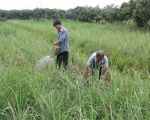 Date Submitted: 24-06-2020